Under Armour Summer Jam: Day 2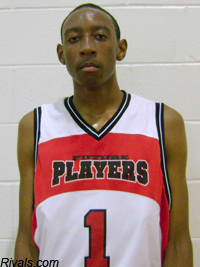 MILWAUKEE, WI - Friday's coverage of Under Armour Summer Jam presented by NY2LA Sports featured a few top recruits who stood out. On top of that, there were a number of mid-major sleepers who came away with impressive performances on day two.
Diamond Dominates
As those who have seen
Diamond Stone
have raved about him, it was those who had not seen him before that came away extremely impressed.
Long and athletic, with tree trunks for arms, the 2015 center from Young Legends (WI) made easy shots and rebounded effortlessly. Stone made athletic finishes coming through the lane and rebounding missed shots by finishing with athletic dunks at the rim. He made it look effortless, too, but his talent is undeniable.
As he isn't focused on his recruitment, nor is he speaking about the subject, it is clear that the five-star rising junior is in high demand. Wisconsin's Bo Ryan, Michigan State's Tom Izzo, North Carolina's Roy Williams, Maryland's Mark Turgeon and assistants from Kentucky, Duke, Georgetown and others watched him in action.
As he took a good amount of visits to Wisconsin and Marquette during his sophomore year, it will be interesting to see if the local Wisconsin schools have any shot at landing this diamond of a player.
Burton Bullies Competition
While the talent around him isn't that great, 2014 shooting guard
Joe Burton
has been giving the role of scoring the ball and shooting it as much as he wants. This helps him now, but long term he may need to change it up as his shots in college will be limited.
With that being said, Burton has a great floater - similar to that of VCU guard Melvin Johnson - and can finish around the basket. He plays a little at the point guard position and has really good court vision. His shot needs to become more consistent, but the rising senior does a great job at creating his own shot off the dribble.
Oklahoma State, Kansas State, Missouri, Texas and Texas A&M have offered, with interest in from Louisville, Kansas, Oklahoma and Baylor. He plans to take official visits to the four schools recruiting him the hardest: Missouri, Kansas, Kansas State and Oklahoma State.
Burton has very good upside and is one of the more elite scorers in his class. It will be interesting to see how his game translates to the next level.
Butts Back in Action
After a knee injury made his sit out for four months of AAU basketball, 2015 forward
Leroy Butts
made his return at Summer Jam with DC Assault.
He did a good job of being active around the basket, and attacking it as well. Right now, Butts is a combo forward who can play the faceup four. He can slash and hit shots, but his handle and shooting still need plenty of improvement if he wants to play the three at the next level.
For now, his development will be crucial as he undersized as a combo forward. His development is still coming along, however, as he is still more prospect than player.
Butts holds offers from Cincinnati, DePaul, Miami, Tennessee, West Virginia, Virginia, Virginia Tech and Xavier. The Bearcats, Blue Demons and Mountaineers are recruiting him the hardest.
McDuffie May Be Next
St. Anthony (NJ) coach Bob Hurley has produced a number of studs over the years. There is no question that Markis McDuffie is next in that elite crop.
McDuffie - a 2015 forward from Sports U (NJ) - showed that off as the 6-foot-7 forward made shots, showed tremendous handle, court vision and used his length to his advantage. McDuffie doesn't usually play in the post, but he did a good job and even made a smooth post move in order to hit a tricky shot. He moves well and can hit shots.
His true position is the wing, but he is projected to wind up growing to 6-foot-10. Quite simply, McDuffie can do it all and, despite his age, there really isn't anything that he cannot do well.
Seton Hall and Buffalo have offered early on, but plenty of interest is coming in from Wake Forest, Temple, Cincinnati, Oregon State, Miami, Bucknell, St. Joseph's and Columbia.
The recruitment of McDuffie is bound to blow up as his upside is through the roof. With that being said, he is already showing how good he is on the U16 level.
Recruiting Rundown
2015 Wisconsin Playground Warriors power forward
Matt Heldt
did a good job of running the floor, boxing out and competing on the boards. He holds offers from Northern Illinois, Toledo, UW-Green Bay and UW-Milwaukee. Wisconsin and Marquette are very interested, while Colorado, Creighton and Davidson are checking him out.
2015 Atlanta XPress (GA) trio
Terrence Phillips
,
Doral Moore
and
Danjel Purifoy
struggled a bit on Thursday, but have still been impressive throughout their entire AAU campaign this year. Phillips - the younger brother of
Brandon Jennings
- holds no offers, but is gaining interest from Georgia, Georgia State, New Mexico, USC and St. John's as a pass-first guard, who can score. Moore - a long, lanky 7-footer - had a major performance at Peach State last week. He isn't clear who has offered, but knows that Texas, Ohio State, Cincinnati, Georgia, Auburn, Georgia Tech, Maryland, Illinois and North Carolina have been calling him the most. Lastly, Purifoy - an extremely versatile and athletic wing - is reeling in college attention from UAB, Michigan, Florida, Florida State, Alabama, Ohio State and Georgia. At this point, Auburn leads in his recruitment after a recent visit.
2014 Houston Defenders (TX) power forward
Zach Haney
proved to be an excellent pick and pop big man, who can crash the boards and spread the floor at 6-foot-10. Pepperdine, Loyola Marymount, Stephen F. Austin and Montana State have offered up to this point, while interest is coming in from Kansas State, TCU and Texas A&M.
Milwaukee Rebels (WI) duo
Damontrae Jefferson
and
David Burrell
continues to fly under the radar. Jefferson - a 2015 point guard - is a high energy player, who can shoot it, control the tempo and push the ball. Burrell - a 2014 wing - can get to the basket at will and score. It's his bread and butter, which has college coaches interested. According to their AAU coach
Shelby Paris
, both are receiving college looks from San Jose State, Oral Roberts, Louisiana Tech, Western Kentucky, New Mexico State and IPFW. More should come out of this in the near future.
2014 Sports U (NJ) power forward
Quadri Moore
is attempting to be a three at the college level, but for now he is a stretch four. His rebounding and ability to move latterly on defense have improved. The schools who have offered him - Temple, Cincinnati, Seton Hall, Rutgers, Auburn, Miami and Wake Forest - are tracking him the hardest. His plan is to cut his list to 3 or 5 schools after July and take official visits from there.
2014 Mac Irvin Fire (IL) small forward
Raymond Doby
continued his aggressive play, and it got him some attention with a big game on Thursday. Thus far, he has scholarships from Illinois State, Bradley and Southern Illinois with interest from Virginia Tech, Michigan State and Florida State. The St. Louis native believes some of the BCS schools could offer in the near future.
2015 Utah Prospects guard
Brock Miller
impressed a lot of people with his skill set, toughness and competitiveness. He took it to hole, made shots and set his teammates up. Utah State and Idaho State have offered at the moment, but Harvard, Stanford, Utah, Colorado, Boise State and Brown are showing interest.
For the latest in college basketball recruiting, head to TheRecruitScoop.com for the latest details and notes on offers, visits, commitments and more. To contact Alex Kline, you can reach him by email at MaryKlineClassic@gmail.com or on Twitter at TheRecruitScoop.