Rumble in the Bronx Recap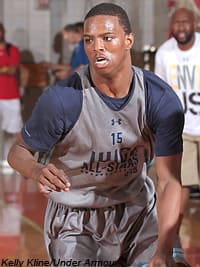 MANHATTAN, NY - The Rumble in the Bronx had fierce competition in Nike Elite 100 camp and the Under Armour Association's All-Star Weekend. With many teams missing their top players, role players were presented with the opportunity to show how good they were. The 2013 event found a good mix of venues and talent on the U17, U16 and U15 level. Deron Williams Elite won the U17 title; Sports U won the U16 crown; and the U15 championship went to New Heights. Here is a recap of 12 recruits who stood out during Saturday and Sunday action at the Rumble.
Matt Ryan
,
New Heights, 2015 6-foot-6 wing
- Ryan is more than a catch and shooter player. He drove to the basket, created his own shot and uses his size and extended range to create mismatches. The next step to the rising junior's game will be doing a little more of everything. His defense has improved, but if Ryan can become a better rebounder and be more active, his recruitment will continue to heat up. Boston College and Rhode Island recently offered. Fordham, Davidson and Boston University has also been targeting him extremely hard. As some compare him to NBA player
Gordon Hayward
, the Iona Prep (NY) stud is very interested in both Stanford and Notre Dame, who will be tracking him this summer.
Kenny Grant, Sports U, 2014 6-foot-9 power forward - With elite size at the four spot, Grant has a great right hand, ideal strength and an improving jumper. Still, he is terrific on the low block, matches up well against other bigs as he is not afraid to play physically, post up and rebound on both ends. Grant, who will return to little known Woodstock (CT) next year, picked up a large amount of offers this spring. Drexel, Wichita State, Quinnipiac, Central Connecticut State, UMass, Stony Brook, George Mason and others have offers, but the big man recognizes that the Dragons, Minutemen and Colonials have kept in constant contact. Temple and St. Joseph's will track him this summer to see if a scholarship should be presented his way. Interested in a coach who can improve his low post game and utilize it, Grant has already visited Central Connecticut State and has a trip to UMass planned for June 14th.
Bashir Ahmed
,
New Heights, 2014 6-foot-6 wing
- Ahmed is long, athletic and always in attack mode. A leader by his play on the court, and will to win, the New York native excels at making contact in order to finish at the basket, or simply get to the free throw line. Ahmed will likely enroll at The Robinson School (NJ) for his final year, but his recruitment is off to a strong start this spring. He holds three offers: Iona, Hofstra and Manhattan. Schools such as Delaware, Quinnipiac, Wagner, Creighton, Buffalo and Oklahoma State have shown interest. The rising senior hopes to begin taking visits at the conclusion of the July Live Period.
Ishmael Sanogo, New Jersey Roadrunners, 2014 6-foot-6 combo forward - Lean and lanky, Sanogo does it all at the forward spot. He can face up, take his defender to the basket or knock down the open shot. His motor is terrific and Sanogo always crashes the boards. Right now, he must be labeled a combo forward because his handle and outside shot still need work. His intangibles in the post and energy are second to none, though. Penn, Buffalo, George Mason, Wagner and Delaware have offered, while West Virginia and Creighton are showing some interest. With no unofficial visits under his belt at the moment, he plans on tripping to Penn and Buffalo in the near future. West Virginia Elite Camp is another potential destination this summer. If he can transform himself into a full time small forward, or at least a true combo forward, his future is looking bright.
Tarin Smith
,
Sports U, 2014 6-foot-1 point guard
- A total playmaker and leader on the court, Smith came into the spring as a virtual unknown by most. After taking a backseat to upperclassmen at St. Anthony (NJ), Smith proved he was worthy. With a much better shot under his belt, Smith continues to make all the right decisions, and plays defense with a passion. This helped acclimate his stock and led to around 20 new offers. Of those schools, the rising senior says St. Joseph's, Delaware, Stony Brook, UMass, Bucknell and Princeton are targeting him the hardest. Creighton and Boston College will evaluate his situation in July. Delaware, Stony Brook and Princeton have already had him on campus, but he hopes to visit Bucknell and Holy Cross this summer.
Devine Eke, New Jersey Playaz, 2014 6-foot-6 small forward - No schools have offered him yet, but Eke is proving his value. A role player who can play on the wing and around the basket, he grabs rebounds, finishes around the basket, plays hard on both ends and is improving his shot. Another twiner of a 3 and 4, Eke just plays hard and makes the most of his opportunity on the court. Interest is coming in from Delaware, Seton Hall, Rutgers, Wagner, Rider, Iona, St. Joseph's and Fairleigh Dickinson. This July will be a crucial one for him. While he won't be playing at Peach Jam, look for offers to come in for him after a strong showing at either Hoop Group or Reebok Camp, depending on where he attends.
Pat Andree, New Jersey Playaz, 2016 6-foot-7 power forward - Already possessing the game of a player years beyond his age, Andree is going to be an extremely special prospect in the near future. Used as a pure big man at CBA (NJ), he has the freedom he needs on the AAU circuit to play inside and wreak havoc on the boards, with the opportunity to play on the wing and just shoot it. If he grows a few more inches, the rising sophomore could have a very special future. Monmouth, Davidson, Princeton and Rutgers already like him, and why wouldn't they with a tremendous turnaround/faceup game? Andree was by far the best player on the U15 circuit at the Rumble.
Isaiah Whitehead
,
New Jersey Playaz, 2014 6-foot-4 guard
- The hype over Whitehead has been around since his middle school days, but the one thing holding him back was his jumper. Now a junior, that has changed, and Whitehead is playing his game just how he likes it. As he runs the point, creates his own shots and continues to extend his range, he will need to improve on two facets of his game going into his senior year. The Lincoln (NY) guard must make better decisions when passing the ball on the fast break, and he needs to not settle on shots. As his squad was missing players this weekend, Whitehead exploded for a 32 and 36 point outburst. His shot was on, but during the semifinal game he ran out of gas and only scored 17 points on a lot of shots. The next step will be becoming a full time combo guard where he can create more opportunities for his teammates when his shot is off, or he is being double teamed. With that being said, his newfound jumper and range has put his game on a new level and given him the boost of confidence that is needed. Louisville, UCLA, St. John's, Minnesota and Syracuse appear to be the five schools recruiting him consistently, but he is yet to make any drastic decisions regarding his recruitment.
Baron Goodridge, New Heights, 2016 5-foot-9 point guard - Small but attentive, Goodridge will have the advantage of working in practice with, and against, Shavar Newkirk at Cardinal Hayes (NY) in order to prepare for a bigger role during his sophomore year and going forward. A drive and kick, drive and dribble type of player, Goodridge is unselfish and prefers finding an open teammate as opposed to scoring it, himself. If need be, he will get to the rim, or shoot the ball. He has the right mentality, and an ideal skill set, so all that holds him back for now is his size. Iona and St. John's are recruiting the rising sophomore early. He hopes to work on becoming more explosive in order to become a better finisher at the rim.
Rashond Salnave, New York Gauchos, 2016 6-foot-2 guard - For the past two years, the New York Gauchos program has needed restoration and cleansing. The buzz surrounding their next big time player is what has most wondering how good Salnave can be. Playing under Ron Naclerio at Cardozo (NY) will help him continue to draw buzz. Salnave can pass, shoot it from deep, break his defender down and get to the basket. He is still polishing up his game and has a long way to go, but Seton Hall is the first school to get involved. The jury is still out, but it is still very early as the hype continues to find its way to him.
Omari Spellman, Team Scan, 2016 6-foot-8 power forward - There are few who are built like Spellman, who has an extremely high motor and athleticism despite needing to work on his conditioning. A great rebounder, who works hard on every possession, he can get to the basket, pass and block shots. A New York native, Spellman played his freshman year of basketball at North Royalton (OH) but decided to return to Team Scan to be with the teammates he came up with. While he will continue to work on becoming a stretch 4 and improving his explosiveness and conditioning, the effort is already there. For Spellman, it's not about potential. He is already very good, but could wind up being elite. Northern Kentucky, Detroit and Ohio have offered, while Michigan, Wisconsin, Notre Dame, Baylor, Ohio State and Xavier have expressed interest. Look for him to pick up plenty of attention this summer.
Christian Vital, Team Scan, 2016 6-foot-2 guard - Heading to Vermont Academy in the fall, Vital will be one of many underclassmen who will play for new coach Cody Hatt against one of the top schedules in the nation. Vital will have to adjust physically, but his jump shot has come a long way. On Sunday, he went for 25 points off of 5 3-pointers. As he continues to get bigger, he will do a better job of attacking the rim. His defense has also improved, as well. Early attention is coming in from Florida, VCU and Providence, but the Rams will clearly make him a focal point now that former Vermont Academy coach Jesse Bopp is the new Director of Operations under Shaka Smart.
Recruiting Notes
2015 Sports U wing Davere Creighton holds an offer from Providence, with interest from Monmouth, St. Joseph's, George Mason and Rutgers.
2016 Kids Plus Silverbacks point guard NyRhique Smith impressed North Carolina assistant Hubert Davis with his play this spring, which led to an invite to visit Chapel Hill. No offers have come his way, but Tulsa, Tennessee, Arizona, Miami, Providence, Florida and others have demonstrated some form of interest.
2014 Albany City Rocks point guard
Sterling Taplin
is being carted hard by Boston, Buffalo, St. Bonaventure, Cansius and Siena. He was on the Buffalo campus last week. The old staff was fairly close with Taplin, who will have to establish a new rapport with new coach
Bobby Hurley
and his group.
2016 New Heights point guard Ty Jerome already holds three scholarships: Columbia, Fordham and Manhattan. Detroit, Iona, Holy Cross and Princeton are also recruiting the 6-foot-2 combo guard whose shot has improved.
2015 Sports U wing Karl Charles has yet to receive an offer, but that should change soon. Miami, Rutgers, Princeton, Drexel, Holy Cross and Oregon State have shown interest, and the Ivy League school will likely host him for a visit sometime in June.
2014 New Jersey Playaz wing
Desi Rodriguez
holds interest from UMKC, UMass, Hofstra, St. Louis, Wagner, St. Francis (NY) and Buffalo.
For the latest in college basketball recruiting, head to TheRecruitScoop.com for the latest details and notes on offers, visits, commitments and more. To contact Alex Kline, you can reach him by email at MaryKlineClassic@gmail.com or on Twitter at TheRecruitScoop.