Nike Peach Jam: Day 2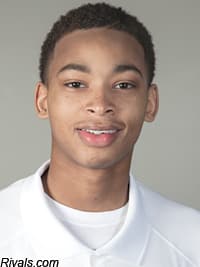 AUGUSTA, SC - Wednesday was the first day where college coaches could begin evaluating talent in the July Live Period. As hundreds of coaches flocked to Peach Jam on the second day, a number of U16 players made the most of their opportunity at exposure. With U17 play beginning on Thursday, it was an important opportunity for U16 recruits to step up with the spotlight on them.
Fast and Ferocious on the Court
While Team Fast (OR) has surprised a number of teams on the Nike circuit all year, they came into Peach Jam with a chip on their shoulder with limited size and a tough schedule ahead. Behind the guard play of
Payton Pritchard
and
Anthony Mathis
the group has made major progress and gained numerous wins.
Pritchard - a 2016 point guard - has similar traits to NBA guard Trey Burke with his shooting ability, size, and ability to kick it out to open teammates when handling the rock. His outside shot is one of his better traits, but isn't as consistent as it could be game-to-game. Once he gets stronger and gains a more seasoned decision making ability, Pritchard could be very good.
No offers are on the table for him just yet, however, he holds strong interest from Virginia, Butler, Oregon, Oregon State and Gonzaga. Oregon State's Craig Robinson and Washington's Lorenzo Romar came to see him, along with their other talented guard.
Mathis - a 2015 guard - is naturally a combo guard who can shoot the ball very well. When Pritchard got in foul trouble, Mathis came in and played the natural role of point guard. He did an impressive job of it, too, as he found open teammates and slashed to the basket for thrilling finishes around the rim. Mathis is another guard who, once he fills out, could be very good in the future.
No offers are on the table for him either, but the likes of Oregon, Oregon State, Gonzaga, Washington and Washington State are showing interest.
The Team Fast duo is still young and will be one of the more interesting groups to evaluate in the coming years.
Coleman Comes Up Big
He is only a rising freshman, but 2017 point guard Matt Coleman of Boo Williams is steering the U16 squad in the right direction. Despite his lack in experience, stature and difference in competition, Coleman has a purpose for playing up.
"I want to get used to playing and being bumped," he told Rivals.com. "I want to play against older kids and get that experience while I can in order to prepare for the high school level."
As he looked poised on the court, Coleman made good decisions on the court, showed leadership qualities, knocked down shots and looked mature for his age, despite his slender size.
The soon-to-be- high school player has already reeled in scholarships from Virginia and Old Dominions. Interest is coming in from Florida State and VCU, and he will attend Maury (VA) in the fall.
Heroic Harris
With Luke Kennard and VJ King struggling in their final game of the night, it was 2015 5-foot-9 point guard A.J. Harris who stepped up for King James Shooting Stars (OH).
Despite his size, Harris put on quite a display by draining threes, getting to the bucket and doing his best Allen Iverson impersonation to keep his team in the game. His size may limit his recruitment somewhat, but he is considered the top point guard in the state of Ohio for his class.
He is being targeted by Dayton, Illinois, Xavier, Ohio State, Michigan, Cincinnati and some mid-major schools, who may not be able to get him if he continues to play big in games like these.
With some options right now, and plenty more coming in the future, it will be interesting to see what level the guard winds up at.
More Attention for Davis, Manuel
Despite the struggle of The Family (MI) during Peach Jam, two of their players have major upside in the class of 2015. Rivals150 talents
Eric Davis
and
Trevor Manuel
are not only fascinating prospects with plenty of upside, but they are ready to perform and make instant impacts now.
Davis didn't have his greatest showing due to a finger injury sustained at the LeBron James Skills Academy over the weekend. He still showed his likability on the court as a big guard who can score off the ball with picks and screens. He gets others involved and takes a relaxed method out on the court. Right now, Davis is a very good prospect. By this time next year, he could be among the elite in the class by growing two more inches.
Ohio State, Michigan State, NC State, Oregon, Illinois, Providence, Iowa and Iowa State have offered, while Vanderbilt, Duke, Kansas and Stanford are expressing interest. Davis has the option of remaining in the midwest or taking a look at different schools nationally.
Manuel may have been the most intriguing prospect of the night as he is 6-foot-8 with a big upper body, yet he played on the wing for the majority of the night. A natural big man, his game is developing and his versatility is creating mismatches for him in his favor. Manuel is sneaky athletic, has good hands, and is effective on the perimeter at times. He can also play in the post so there is a lot of upside to his game.
Similar schools recruiting Davis hard - Michigan State, NC State, Providence, Oregon, etc. - are making a strong run at Manuel, who has a bright future ahead.
Recruiting Rundown
2015 Team Final (PA) guard Levan Alston shot the ball extremely well and showed more aggression and effort taking over the game on Wednesday. He also did a good job of running some point, driving to the basket and dishing the ball out to an open teammate. Alston plays point guard in high school, combo guard in AAU and projects as a shooting guard in college, but he possess the ideal skills of someone who can play both guard spots. Temple, St. Joseph's, Penn State, La Salle, Penn and Rhode Island have offered, while Miami is showing strong interest. While his father played at Temple, Alston said this will not give the Owls an advantage in his recruitment.
2015 Each One Teach One (FL) small forward
Jonathan Laurent
showed that he is still quick and athletic despite having a very developed body for a rising junior. The wing prospect did a great job of getting to the basket and grabbing rebounds. He excels in transition. Laurent is likely to blow up in the next six months to year, but for now he holds offers from UCF, Boston and Florida Atlantic. The high-major programs aren't to far away, though, as solid interest is coming in from Florida, Florida State, UCLA, Murray State and George Mason.
2015 Arkansas Wings shooting guard Marlon Hunter hasn't received as much attention as teammates Skal Labisierre and Malik Monk, but his coaches believe in him, along with college coaches. No schools have offered at the moment, but he is hearing from Tennessee, Arkansas, Ole Miss, George Mason, Kansas and Louisville as someone with a lot of upside. Hunter can score at the rim and is a true energy player on defense.
2015 All-Ohio Red guard
MaCio Teague
did a good job of scoring the ball, running the offense at times, and doing the little things on the court. As Akron is recruiting him the hardest, the Zips and Seton Hall have offered so far. Xavier, Villanova, Miami and Virginia Tech are showing interest.
For the latest in college basketball recruiting, head to TheRecruitScoop.com for the latest details and notes on offers, visits, commitments and more. To contact Alex Kline, you can reach him by email at MaryKlineClassic@gmail.com or on Twitter at TheRecruitScoop.