Nike Peach Jam: Day 1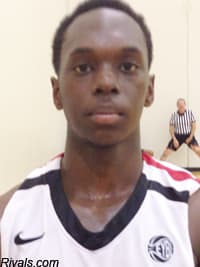 AUGUSTA, SC - Tuesday kicked off the first day of action at the Nike Peach Jam. With college coaches not in attendance, the U16 tournament began as 16 teams battled it out. In a very competitive setting, numerous recruits stepped it up in a big way on day one.
Tatum Sets the Tone
Through the course of the St. Louis Eagles nightcap with Houston Hoops, 2016 wing
Jayson Tatum
was ineffective without the ball in his posession. With the ball in his hands, though, Tatum was poised, under control and effective. In fact, the talented Missouri native hit the game-winning three ball after creating seperation from his defender off of a crossover. At 6-foot-7, he shows a lot of similarities to UCLA's
Kyle Anderson
and NBA lottery pick
Michael Carter-Williams
as a tall, versatile player who can bring the ball up the court and distribute it.
At the next level, Tatum doesn't feel as if he will have a defined possession.
"I'm looking for a system where they will let you play, screen and roll, lots of ball movement," he told Rivals.com following the game.
Thus far, he holds offers from Missouri, Kansas, Illinois, Marquette, Florida, Kentucky, Memphis and Saint Louis.
Tatum "couldn't believe it" when Kentucky offered, but that doesn't mean they aren't the only SEC school in contention for him. Florida also has a great pitch ahead with former Chaminade (MO) products David Lee and Bradley Beal both having success in a Gators uniform and moving on to the pros. "It's something I'd definitely look into because of their history with those two."
He hopes to visit Kentucky in the near future.
Canadian Invasion Continues
Between the sharpshooting and finishing ability of both
Montaque Gill-Caesar
and
Jalen Poyser
, CIA Bounce was able to take care of business.
Gill-Caesar - a 2015 shooting guard - sat behind in the spotlight of Kansas bound Andrew Wiggins and Florida State bound Xavier Rathan-Mayes this year at Huntington Prep (WV), but will be one of the featured players for the nationally ranked prep school for his junior year. He will be ready to hoist this challenge and tackle it.
His shot is accurate. He does a good job of drawing contact. Gill-Caesar can defend and rebound to compliment his ability to score the ball.
Illinois, Alabama, Xavier, Ohio State, Missouri, Baylor, UCF and Purdue have offered, while interest is coming in from Indiana, UCLA, Louisville and others. Right now, the Musketeers, Crimson Tide and Fighting Illini are recruiting him the hardest. He won't be taking visits to soon, however, as he wants to remain in Canada following the AAU season to spend time with family.
Poyser - a 2015 guard - is another hidden secret who is unranked and ready to breakout further. Heading into his second year at Findlay Prep (NV), it will be interesting to see how much playing time he features with a number of other scorers and star players on the team.
He shot it well, showed off his high IQ, range, and overall fundamentals.
Interest is coming in from Michigan, Oregon State, Wake Forest, Oregon, Siena and New Mexico State. The Wolverines, Demon Deacons and Saints are tracking him consistently, and Michigan assistant Bacari Alexander wants him on campus in the near future.
Bryant Becoming Elite
The No. 17 prospect in the class of 2015 continues to develop his game, and he's only getting started.
The improvement of Team Scan (NY) power forward
Thomas Bryant
is clear. He is stronger, more physical, more active in the paint and on the boards. Bryant is still raw offensively in the post, and must find other ways to score, but his improvement is clear. He is rebounding, passing the ball and being active at all times.
While Syracuse has a locational advantage, everyone is after him. Offers are in from the Orange, along with UCLA, Arizona, Florida, Ohio State, Villanova, Miami and West Virginia.
While Bryant is Syracuse's top target in 2015, and the location makes sense, more top programs will get involved in the near future if continues to show his upside at Peach Jam.
Williams Working Wonders
Chicago Meanstreets (IL) is filled with talent at all positions. The most versatile player on their squad may be
D.J. Williams
, who is starting to come into his own after spending two years behind Duke bound
Jabari Parker
's spotlight at Simeon Career Academy (IL).
Williams is currently a wing, but can run some point, play off the ball at the other guard position, or slash from the perimeter. The versatile talent can pass, rebound, handle the rock and more. His talent has already caught the eyes of many, even in another loaded class of 2015 in Chicago.
Illinois, Kansas, Florida, SMU, Providence and DePaul have offered, while Michigan State and Georgetown have shown interest.
"Since the June contact period began, Illinois and Michigan State have been contacting me the most," he told Rivals.com.
Williams, who wants to see Florida in August, considers himself a wing prospect going forward.
Recruiting Rundown
2015 Nike Team Florida guard
Haanif Cheatham
has seen his stock rise recently, and for good reason. The long, lanky guard attacked the paint, knocked down jumpers and did a good job of pushing the ball in transition. Cheatham is a true shooting guard but showed signs of how strong is handle is, and his progress in becoming a combo guard. Georgia offered last week, and joins Miami, South Florida and Florida International. Along with those offers, he is earning interest from Kansas, Alabama, Louisville, Florida, Florida State and Murray State. Cheatham plans to take local visits in the fall to Florida and Florida State.
2016 Cali Supreme (CA) point guard
Devearl Ramsey
made the Team USA U16 team by demonstrating defensive intensity, running the offense coast to coast and setting up his teammates to finish. He used that same style of play on Tuesday for his team. Currently, USC stands out over others to Ramsey because the school is five minutes from his home and they have been showing him a fair amount of attention early in the process. UCLA, Arizona and the majority of west coast schools are involved right now.
2015 Houston Hoops (TX) small forward
E'Torrian Wilridge
continues to get better. Now officially recognized in the Rivals150, schools are beginning to take notice of him. Wilridge did a great job of finishing at the basket and making impact plays throughout Tuesday's action. He has recently picked up offers from Texas A&M, Oklahoma, Iowa State, Marquette, Georgia and Auburn. This is a big change up from his original offer from Rice. Look for more schools to get involved.
2015 Cali Supreme (CA) forward Broderick Jones looks at himself as a wing prospect on a team filled with guards and bigs. At 6-foot-9, Jones has tremendous upside on the offensive end and has already made great progress defensively. As he gets after it on the defensive side, Jones struggled on offense but has the body and frame of a special player in the future. Oregon, Colorado and UCLA certainly think so as the three have offered him, along with interest coming in from Washington, California, Stanford and Memphis. Jones hopes to visit California in the future.
2015 Team Scan (NY) shooting guard Chance Ellis is slimming down, and remains a threat from deep due his hot shooting ability and good size. He has recently picked up offers from Penn State, Saint Louis and ECU, while new interest is in from New Mexico, George Mason, NC State and Notre Dame.
For the latest in college basketball recruiting, head to TheRecruitScoop.com for the latest details and notes on offers, visits, commitments and more. To contact Alex Kline, you can reach him by email at MaryKlineClassic@gmail.com or on Twitter at TheRecruitScoop.