Live In AC - Day One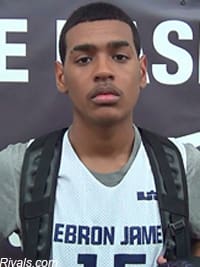 EGG HARBOR, NJ - As Live In AC kicked off on Wednesday, the gym was packed with college coaches from the likes of Syracuse, UCLA, Miami, Baylor, Pittsburgh, Oregon State, Alabama, UConn, Indiana, NC State and many more. With Team Takeover DC, New Jersey Playaz, CIA Bounce, Team Final, WE-R1, Sports U, Philly Pride and others taking the court, the high level of talent on the court made it a special first night in the Garden State.
Jordan Wins The Battle of Philly
On Wednesday night, Atlantic City became the place to be for a basketball matchup based in the City of Brotherly Love. Rondae Jefferson's Team Final squad took on Rysheed Jordan's Philly Pride team. Simply said,
Rysheed Jordan
owned the night as he took over with 22 points and numerous assists as Philly Pride pulled off the surprising win. As
Miles Overton
was back in the lineup - Wake Forest looking on - and
Jeremiah Worthem
playing his role in the post, the gritty squad made a strong push. In a gym packed with college coaches and fans, Jordan proved to be the better player on this night as Jefferson and his teammates struggled from the get-go. Jordan has been fairly closemouthed about his recruitment for a while now, but does insist that he's wide open. While Maryland has made a nice impression on him, he has an open mind on which schools he likes. The rising senior took pre-July trips to both Xavier and Villanova. "Xavier has a nice campus and dorms," he told Rivals.com. "I like how each player has their own, personal tutor. Villanova was great because of the distance from home and Jay Wright is an excellent coach with a great reputation in Philadelphia." Jordan says the schools coming at him the hardest right now are Temple, Villanova, La Salle, Seton Hall, Maryland, Kansas, St. John's, UCLA, UNLV, Syracuse, Rutgers, Xavier and Pittsburgh. Look for the No. 16 player in the Rivals150 for 2013 to cut his list down to around seven or eight schools come August and ultimately decide on a college before the high school season starts.
Johnson Emerging As Top-100 Player
On a team full of stars, including
Rondae Jefferson
,
Davon Reed
,
Austin Colbert
,
Jaren Sina
and many more, it was unlikely that
BJ Johnson
would be playing the best ball on Rob Brown's Team Final squad by summers end. The 2013 6-foot-7 small forward, who could be the best to come out of Lower Merion since Kobe Bryant, has emerged as one of the hottest prospects in the nation. Following a strong performance at the Nike Skills University in Washington DC, as well as the Nike Peach Jam, Johnson has emerged as one of the elite wing players in his class. With Rutgers, Clemson, Xavier, Villanova, Richmond, UMass, Duquesne, Penn State, Temple, St. Joseph's, Boston College, Boston U, Towson, Dayton and more in pursuit with scholarship offers, a ton of the big boys in college basketball are closely watching. Syracuse, Miami, Virginia Tech, UConn, Pittsburgh and Georgetown like what they see, and the Orange could offer once head coach Jim Boeheim gets a look at Johnson. While that may or may not happen before the July Live Period ends, Syracuse - along with Villanova, Virginia Tech and UConn - intrigue Johnson to the point where he would want to visit the campuses in August or the fall. The son of former La Salle great Robert Johnson, look for the Team Final product's stock to continue to rise in the last week of July as his athleticism, versatility and ability to attack the rim when he is in his zone make him a desired player.
Young Continues To Improve Game
When the high school season ended this winter at Hudson Catholic (NJ) for
Mike Young
, things changed. "Winning is my main priority to me," he told Rivals.com. "I want to show that I'm a great teammate who wants to win games. I'm much happier now and things are going very well as I head into my senior year of high school." The No. 102 player in the Rivals150 for 2013 has certainly changed things up. A more confident and positive person on and off the court, Young is showing off his versatility and is now being recruited as more of a playmaker as opposed to a true power forward. His mid-range jumper has improved, along with his perimeter defense and post moves. Young is still an excellent rebounder with a high-level body. As he returns to St. Benedict's (NJ) for his senior season, there is no question that final year of high school could shape him perfectly with college right around the corner. Speaking of college, Young lists offers from UConn, Florida, Miami, West Virginia, Memphis, Xavier, Pittsburgh, Georgia Tech, NC State and Rutgers. While Pittsburgh is his hometown and Young feels comfortable with the location and relationship with the staff, he remains wide open. Look for West Virginia to make a run as he has visited there multiple times, including a trip in June that led to new friendships with the players on the Mountaineers. Look for Young to take post-July unofficial visits to UConn, Xavier, and possibly a return trip to Morgantown.
Bentil Adding Moves To His Repertoire
After a strong performance at Under Armour Summer Jam in Milwaukee, 2014 power forward
Ben Bentil
showed off a new artillery of skills in a win over Sports U and close loss to the NJ Playaz. The 6-foot-8 post player, ranked No. 36 in the Rivals100, showed off his passing skills and post moves in order to score the rock. With great hands and a strong body, Bentil continued his excellent July with great all around games. After picking up an offer from Xavier last week, Bentil played in front of a variety of college coaches from Cincinnati, Rutgers, Penn State, St. Joseph's, Baylor, Villanova, Temple, Rhode Island and the Musketeers, among others. As his focus is on improving his game, the rising junior is on pace to rise in the rankings. As his coach,
Terrell Myers
, has been a huge part in the recent development of big men
Malcolm Gilbert
of Pittsburgh and hot 2013 target
Julian Moore
, there is no doubt that Bentil's ceiling is as high as they come.
Live In AC Recruiting Tidbits - Day One
Florida State head coach Leonard Hamilton made a rare trip up to the northeast to try and score a prized 2013 recruit. After missing on
Chris Walker
, who wound up at Florida, the Seminoles are making 2013 shooting guard
Xavier Rathan-Mayes
of CIA Bounce a priority. With another Seminoles target in
Andrew Wiggins
not making the trip to Atlantic City, all eyes were on Rathan-Mayes, whose father - Therron - played at Florida State. With nearly forty offers under his belt, schools such as Alabama, Iowa State, Miami, UCLA, Baylor, UConn, Virginia, NC State, Seton Hall and others made the trip to see the sharpshooter in action as his Canadian squad pulled out two close victories on Wednesday night.
With limited big men available in the class of 2013, the New Jersey Playaz boast two who have seen their stock rise this July. Power forwards
Neville Fincher
and
AJ Sumbry
have been playing good ball with college coaches looking on, and as both plan on attending a prep school next season, they could make colleges of the right level very happy. Fincher recently picked up an offer from Old Dominion, while schools such as VCU and Memphis are looking on. Sumbry, who has improved defensively, landed an Atlantic-10 offer from St. Bonaventure recently. He also holds offers from LIU and Fairleigh Dickinson, to go along with strong interest from Wagner.
For more coverage of Live In AC, continue to check out The Recruit Scoop for daily updates on top performers and recruiting updates.