Gulf Coast Hoop Fest Day 2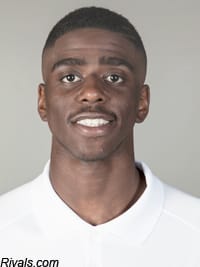 BILOXI, MS - On Day Two of the Elevate Hoops Gulf Coast Hoop Fest, two top-50 recruits showed good improvement coming off of injuries that forced each to miss about eight months. As neither had played until last week, both brought a lot of college coaches to the sidelines.
Labissiere, Dozier Return to Action
After missing their entire junior season of high school basketball, the recovery period is officially over for
Skal Labissiere
and
P.J. Dozier
. Both witnessed the impact that a lingering injury can have, and what it can do to their recruitment. As they became more appreciative of schools who continued to come in to see them despite not being able to play, relationships were formed.
"The injury opened up my eyes in the recruitment process as those schools still came despite my situation," Dozier told Rivals.com.
For Dozier - a 2015 shooting guard from the Upward Stars (DC) - his stock may have dropped, but he is getting back into shape and form. Getting his feel of the game back and shaking off the cobwebs, the No. 49 player in the Rivals150 played the floor general role and made plays with his long wingspan. He shot the ball well from long range, but not great, and needed more consistency to his play. Despite the rust, the stakes are high for him.
Clemson, South Carolina, Michigan, Ohio State, Indiana, Georgetown and North Carolina have been pursuing the hardest and were in to watch Dozier at one point or another on Friday and Saturday other than Indiana. Open to all schools at this point, loyalty could play a big factor after the injury. As Roy Williams will be in to see Dozier on Sunday, it will be interesting to see if he can keep the South Carolina native in the Carolinas.
For Labissiere - the 2015 power forward from M33M (TN) has improved tremendously since last spring and summer. Much more physical and built, the No. 6 prospect in the nation showed great mobility, took the right shots, showed leadership and took charge on the court by demanding the ball. The improved physicality will go a long way for the Haiti native.
Unfocused on his recruitment at the moment, the five-star big man listed Memphis, Georgetown, Kentucky, Florida and Tennessee. Other schools are certainly involved, and he was watched by those schools, minus Kentucky, over the weekend. As Memphis continues to seem like the eventual destination for him, there is no definitive indication of that.
Surprises & Sleepers
2015 M33M (TN) duo Trenton Clayton and Justin Wortner had big days in different ways. Clayton - a power forward - used his body and physical build to outmuscle opponents on the glass and score in the paint. As improvement is needed on his footwork and mid-range shot, Clayton holds an Alabama State offer along with interest from UAB and Troy. Wortner - a big shooting guard - is of Mormon faith, and considering BYU, Utah State, Utah Valley, Colorado State, Tennessee, UNLV and Memphis. With Utah State on him the hardest, coaches like his shooting ability off the one dribble pull up, and his ability to get into the lane. He recently visited Utah and Utah State.
Four members of the 2017 Southeast Elite (AL) group impressed on the U15 circuit. As their U16 group - which also features numerous 2017 players - was pretty impressive, this group was even more dominant. The key players were R.J. Moon, Garrison Brooks, Alex Reese and Brad Anderson. Brooks - the son of Mississippi State assistant George Brooks - has the most upside of all and recently visited Auburn. The power forward defends, blocks shots, has a mid-range game, and can play and defend multiple spots. Moon is transitioning into a perimeter player, which will take time but is worth it because of his size, length and skill. Murray State has shown early interest in him. Although small, Anderson makes a great floor general because of his quickness, decision making and ability to get to the cup. No schools have shown interest at this time. Lastly, Reese isn't as physical or aggressive as he could be. He blocks shots, rebounds, and can even pick and pop the trey from outside. UAB and Murray State are interested early on. Look for this impressive group to gain more attention going forward.
Full of skill, size and potential is 2016 Alabama Legends (AL) power forward Cameron Diggs. Still making progress on the court, he is solid with his back to the basket, had a nice touch around the rim, runs the floor and alters shots with his long wingspan. As he has a good body, but needs to get stronger, he needs to make his offensive game much more crisp. Washington is recruiting him the hardest and has offered, along with Seton Hall and Auburn. LSU, Alabama, Miami, Vanderbilt and Florida State will monitor his progress, among others.
Recruiting Rundown
2015 Louisiana Dynasty (LA) shooting guard Jacob Evans got off to a slow start, but showed how good he could be his third game. A bruising, big-bodied slasher, Evans fairs well in transition as he pushes the ball and is a great playmaker. Inconsistent with his jumper, that will be the next part of his game to focus on. With UAB recruiting him the hardest, he holds offers from UTEP, Oklahoma State, South Carolina and Richmond with interest from West Virginia and LSU. Evans wants to use three of his five official visits on Richmond, South Carolina and UAB.
Not much is new in the recruitment of
Dwayne Bacon
other than the emergence of South Florida due to new coach
Orlando Antigua
. The vibe this weekend - following Bacon and teammate
Corey Sanders
' visit to USF last weekend - was that the Bulls were in the best contention for Bacon. The 2015 guard from Showtime All Stars (FL) says he is wide open at this time and will focus more on his recruitment towards summers end. His guard skills, slashing skills and mid-range game have improved a great amount since the fall.
2015 Arkansas Hoyas (AR) guard
Kevaughn Allen
is considered the No. 82 player in the nation, but will need to keep expanding his game. As he showed off his well-known athleticism, Allen is a combo guard in training and needs to continue improvement on his jump shot. Sluggish today, he still drew a large crowd of coaches. Florida, Baylor, Mississippi State and Arkansas have offered, and the new Wake Forest staff recently offered. Georgia and North Carolina have expressed some interest. Allen does not plan on rushing into a decision anytime soon.
Quick and strong with the ball,
Tyree Crump
did a good job of attacking openings in the defense and finishing in contact. Average sized but physical, he plays on and off the ball, is a reliable ball handler, and an even more reliable scorer. The 2016 guard from Showtime Hoops (GA) has offers from Memphis, Ole Miss, Georgia, Auburn and Florida State.
For the latest in college basketball recruiting, head to TheRecruitScoop.com for the latest details and notes on offers, visits, commitments and more. To contact Alex Kline, you can reach him by email at MaryKlineClassic@gmail.com or on Twitter at TheRecruitScoop.