Gulf Coast Hoop Fest Day 1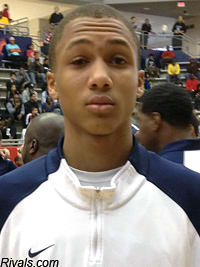 GULFPORT, Miss -- On day one of the Gulf Coast Hoop Festival, players from Texas, Mississippi, Georgia and Louisiana stole the show as a number of talented underclassmen rose to the occasion to commence the event on Friday night. Coaches from Memphis, Oral Roberts, Xavier, Arizona, UCLA, Oklahoma State, NC State, Ole Miss, Mississippi State and others were in attendance to take in the action.
Super Mario
Playing on the U17 circuit as a high school freshman, 2016 wing
Mario Kegler
was nothing short of astounding on Friday night for MBA Select out of Mississippi.
The Callaway (MS) product ran the point at 6-foot-6 and showed a special ability to get to the rim at will. His motor was extremely impressive as he kept an uptempo pace on offense at all times with a handle for a prospect who doesn't think of himself as a point guard.
"Not at all," Kegler said when asked if he considered himself to be a point guard. "I'm trying to be a combo guard who can score, but need to improve on my jump shot."
Kegler looks like a 2/3 right now, who can handle it fairly well and has the ideal body to be successful going forward.
Currently, he is being carted by UNLV, Ole Miss, Ohio State, Mississippi State, Memphis, Maryland, UCLA and others, but would be interested in hearing from Duke. It is still early, however, but Kegler is going to be a special talent heading into the future.
Key Piece for Hurricanes?
There is no doubt that the upside of
LaDamean Keys
is extremely high. Overshadowed by his four-star teammate,
Craig Victor
, the 2014 power forward from Bogalusa (LA) is long, athletic and full of upside.
Keys did an excellent job of finishing around the rim on offense, but his key to earning more scholarships will be his work on defense as his length helps him block and alter shots, as well as his versatility, which helps him defend a number of positions.
Ranked No. 105 in the Rivals150, the New Orleans Elite product has an early leader - Miami.
"They are recruiting me the hardest and I would say they definitely have an advantage for me," Keys told Rivals.com. "I like the way I would fit into their defense, as well as the location. It's Miami."
An unfinished product who is bound to flourish in the right system, Keys is also being tracked by Mississippi State, LSU, USC, Arizona, Florida, Ole Miss and others. He hopes to visit the Coral Gables campus in the near future, along with USC and Arizona's.
Evans Following in Ross' Footsteps
As one of the top players to come out of Mississippi in the past decade,
LaQuinton Ross
set the tone for high-level play in the state.
Malcolm Evans
isn't at his level, but he certainly aspires to be.
The class of 2015 6-foot-7 wing from Forrest Hills (MS) is another long, stellar prospect who is versatile on all ends. He closes lanes, shoots it well enough and models his game off that of the Ohio State forward.
"I really look up to him," Evans told Rivals.com. "We speak every so often."
Ohio State and UNLV are standing out among the long list of schools carting the MBA Select sophomore, along with Ole Miss, Oklahoma State, Memphis, DePaul and Mississippi State.
The Buckeyes have an advantage, though, due to the presence of Ross, as well as their defensive sets and the style which fits Evans' game and style. Still, he has no intention of making a college decision until he is a senior.
Sampson Next In Line
Brandon Sampson
took advantage of playing alongside All-American
Jarrell Martin
this year. His first season on Varsity, at age 15, the class of 2015 shooting guard led Madison Prep Academy (LA) in scoring during the playoffs. Now, he is ready to show how good he can be on his own.
Starring for Louisiana Future, Sampson's length as a guard was noticeable. His sneak athleticism also benefitted him, but he did a great job of balancing the attack of shooting and slashing, as well as creating for his team on offense. A well-rounded player who is still improving in all areas, Saunders is solid in all areas, as well.
LSU, Texas A&M, St. John's, Oklahoma State, Houston, Memphis and Louisville are targeting him, according to his coach, Jeff Jones.
Jones, the head coach at Madison Prep (LA), believes Sampson can be the next star to emerge out of the program as his attitude matches his potential and current talent.
Durham Filling Up Stat Sheets
At the Adidas Exclusive Run in Dallas,
Damiyne Durham
gained a reputation for being able to shoot the ball. He felt he did that well, but wanted to begin attacking the rim. On Friday night in Mississippi, he did just that.
With his teammates finding him in transition, Durham consistently finished at the rim for most of his points, although he did not attempt many jumpers. The next step for the 2014 shooting guard from the Franchize All-Stars (TX) is to combine the two and be able to score at will on offense.
Yet to receive a scholarship, he will take the ACT in June with the hope of gaining a strong enough score to entertain some serious suitors. DePaul, Houston, Memphis, North Texas, Texas State and Texas are very much interested in the Oakwood (TX) prospect. Can he become the complete package on offense, though?
Day One Final Notes from the Gulf Coast
The Georgia Renegades have a strong 1-2 punch in long 2016 products Jordan Harris and Deunta Clemons. Harris, a guard from Iron City (GA), and Clemons, a forward from Marianna (FL), both have great size and motors with a good feel for the game early on. Careless with the ball at times, they must continue to become well-rounded players. Michigan State, Oklahoma State, George Mason, Xavier, Mississippi State, Georgia, Miami and others are looking at both.
The surprise of the day came from Blake Paul of Big Easy Elite in Louisiana. A 2015 power forward from East Jefferson (LA), Paul was a fresh face to most and attracted many college coaches to his game, including Memphis boss Josh Pastner. Paul ran the floor well, finished around the rim with explosive dunks and did his job on defense. Texas A&M, Louisiana Tech and Oklahoma State have inquired early, but if he continues to play like this against players his size, his recruitment could possibly blow up by summers end.
An ideal glue guy in the post for most schools has to be 2014 power forward Justin Hollis of Trent (TX). Playing with the Franchize All-Stars out of Houston, Hollis was the garbageman as he cleaned up on offense with putbacks and second opportunities. The rising senior anchored the defense on the block and in transition. A fascinating prospect, he can contribute at any level because of his size, motor and aggressive approach. UTEP, Houston, Weber State and North Colorado have offered, with Memphis, Oregon, Portland, Texas Tech, Oklahoma and others observing. Miners coach Tim Floyd has made a strong impression on him early, and could get a steal if he continues to pursue Hollis the hardest.
For the latest in college basketball recruiting, head to TheRecruitScoop.com for the latest details and notes on offers, visits, commitments and more. To contact Alex Kline, you can reach him by email at MaryKlineClassic@gmail.com or on Twitter at TheRecruitScoop.