Gulf Coast Hoop Fest Day 1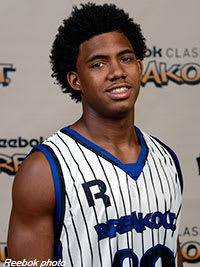 BILOXI, MS - With events around the nation in Pittsburgh, Dallas, Sacramento, Kansas City and more, the sleeper event of the April Live Period had to be the Gulf Coast Hoop Fest presented by Elevate Hoops. With a lot of depth in teams and talent present, a mass amount of college coaches flooded the sidelines in Mississippi for action Friday night. Here's a look at some of the top performers and interesting stories.
Gilder's Gigantic Rise
Coming off a championship at the Real Deal in the Rock,
Admon Gilder
and the Dallas Mustangs (TX) were riding a high. Gilder - who has rose in the most recently updated Rivals150 about 70 spots - has been the catalyst for the success with a great supporting role. With their point guard injured, and a new challenge in front of them, the team came up short on Friday night. Gilder had his own ups and downs, as well.
A 2015 6-foot-3 shooting guard from James Madison (TX), Gilder did well in spurts as he played his best in transition. With the ability to score efficiently on all three levels, he mixed in a few jumpers and layups but never found consistency after being forced to create shots off the dribble. A big energy guy who opens up the floor for teammates, the No. 49 player in the nation will have to continue to improve his handle in order to create further opportunities.
It is evident, however, as to why he is considered one of the best scorers in 2015. As no schools are standing out to him at this point, he holds offers from Kansas State, Virginia Tech, Oklahoma, Oklahoma State, SMU, UNLV, Texas, Texas A&M, Baylor, Boise State, TCU, Arkansas and Vanderbilt. While they do not hold an advantage, Baylor was the only program to conduct an in-home visit with Gilder.
His plan going forward is to play out his recruitment and see who else gets involved. He hopes to take a few official visits in August, make a top-five list, and eventually decide on his future sometime in September.
Surprises & Sleepers
As Upward Stars (SC) were full of a few pleasant surprises in Karl Gamble, Antwan Maxwell and De'Riante Jenkins, the interest and focus on Jenkins. As all were long and skilled, the 6-foot-7 wing showed he was a reliable ball handler, who can make solid decisions and score when attacking the basket from the free throw line in. As he fairs well in transition, the underrated 2015 prospect will have to slow his game down a little or find a college system that welcomes what he brings to the table. South Carolina State is his only offer, but Clemson is showing a strong amount of interest and will continue to monitor him. Charleston Southern and Radford are also involved.
He has all the tools to have a special spring and summer, but will
Kerry Blackshear
make it happen? Holding a 3.7 GPA, the versatile power forward can step out and shoot the mid-range a bit, but also has great footwork inside to finish around the basket. He needs to become stronger and more aggressive inside as he doesn't always take advantage of his size and skill set. Being recruited the hardest by Lehigh right now, the 2015 recruit from the Q6 All-Stars (FL) also holds scholarship offers from Radford, Stetson and Kennesaw State with rising interest from Florida, Miami, Belmont, Georgia, Harvard, Georgia Tech, Vanderbilt, Dayton, UCF, South Florida, Kansas State and Clemson. He doesn't have any visits setup, but hopes to get a look at UCF in the near future.
The Florida Vipers have the ideal mid-major power forward in Cedric Wright in 2015. Scoring with ease in the post because of his strength, he is a good defender, passer and total workhorse. As some believe he can play on the perimeter, he is not ready for that as his handle and athleticism will have to improve. For now, he makes an excellent undersized four-man and San Francisco is all for it. Rex Walters and staff are recruiting him the hardest and Wright plans on spending his first official visit in May on the WCC program. Charlotte and Kennesaw State have also offered, and interest is coming in from Georgia Southern, Northeastern and a few SEC programs.
Freshmen Phenom Duo in Alabama
With a top-10 junior in action on the main court, a North Carolina staffer walked away to watch a U16 game. The attention was there, and the exciting vibe of the game was there. It all made sense as
Wendell Carter
and
Austin Wiley
were playing for Southeast Elite (AL).
Despite it being a close game, the two are dominant rim protectors as they block shots, eat space and rebound the ball with very developed bodies and long arms. Carter's shooting is a bit more advanced compared to Wiley's, but both are improving on offense and have athleticism, and the an ability to finish around the basket.
Carter - a 2017 6-foot-10 power forward from Georgia - visited North Carolina, Duke, Wake Forest and Georgia Tech in the winter, and holds some interest from Missouri, UConn, Kansas and Georgia Southern. Wiley has an interesting situation because his parents were both athletes at Auburn, including his father who played for the Tigers' basketball program. Auburn, Alabama, UAB, Mississippi State and Murray State have offered the Alabama native, who is more mobile and has some similarities to top-20 junior Thomas Bryant. Kentucky and Baylor have also shown interest. These two have a very special future ahead, and if they continue to play together in AAU, it will continue to create a major buzz around youth basketball.
Recruiting Rundown
2015 point guard
Corey Sanders
of Showtime Ballers (FL) has made strides in his game as a true floor general. More willing to pass the ball, find his post players, and see the floor in the open court, he has become a better decision maker. Still an electrifying scorer, Sanders is working on his jumper more, but still brings a lot to the table with his quickness, handle and ability to finish with contact at the rim. The former UCF commit visited campus last week and is still consider the Golden Knights. UNLV has offered, but the five schools who have offered that are working the hardest for Sanders - in his mind - are Cincinnati, DePaul, Murray State, South Florida and USC. Once he takes the ACT, look for Sanders to take more visits.
2015 small forward Keith Stone is an intriguing small forward for the Florida Vipers (FL) because of his length, rebounding ability and handle to go along with his 6-foot-7 frame. While he didn't have the best first night, schools are all over him, especially Wyoming. Larry Shyatt and company are recruiting Stone the hardest and he hopes to use an official visit there in May. Florida Gulf Coast, North Florida, Northern Arizona and Florida International are his other offers with Murray State, South Carolina, Florida State, Elon and Vanderbilt show interest.
2015 Team Speights (FL) big man
Sajon Ford
is still learning the game in only his third year of playing, and that can be seen. Still in prospect mode, Ford contributed on the glass but was limited as he didn't shoot or touch the ball much. Far from a finished product, college coaches realize his upside is worth pursuing. With an abundance of BCS level programs looking on, it is clear to Ford and his AAU coach, Aaron Holmes, that Georgia is working the hardest for him. Auburn, Northeastern and Florida Gulf Coast have also offered, and Clemson, Memphis, Florida State and others will keeps tabs on him over the next few months as he gains more experience and gets stronger.
2015 shooting guard
Ishmael Hook
shot the ball well for the Dallas Mustangs (TX), and is trying to find more ways to contribute. Primarily a shooter and slasher, he is also a reliable help defender, who will have to get bigger physically in order to make an impact at the next level. No offers are on the table yet, but George Mason is recruiting him the hardest with Wake Forest, Baylor and Army expressing some interest.
2016 guard PJ Grooms of the Southern Phenoms (MS) came across as a very reliable guard, who is about ready to play the point at 6-foot-4. He fairs well in the pick-and-roll, as well as in transition. Grooms shot it a fair amount from outside, but needs to firm up his jumper. He can also go inside and get to the glass a bit. Clemson, Georgia Tech, Troy, Mississippi State, Tennessee State, UAB and Alabama have shown early interest and will track him. He plans on attending Clemson Elite Camp as there is mutual interest between the two parties.
For the latest in college basketball recruiting, head to TheRecruitScoop.com for the latest details and notes on offers, visits, commitments and more. To contact Alex Kline, you can reach him by email at MaryKlineClassic@gmail.com or on Twitter at TheRecruitScoop.