Five for Friday: Philly Hoops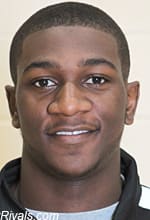 WILL SAVON GOODMAN TAKE A YEAR OF PREP?
2012 6-foot-6 combo forward Savon Goodman of Constitution (PA) has been fairly quiet about his recruitment since decommitting from Villanova back in August. His grades have been a concern to some, as well as his true position on the court. Nevertheless, Savon Goodman is an absolute force on the court with his big body and jump-out-the-gym athleticism that is constantly present in his game. The No. 72 player in the Rivals150 in the class of 2012, Goodman is looking at a number of schools including Seton Hall, Temple, SMU, UNLV, St. John's and more. A number of these schools are attempting to bring Goodman on campus. Temple and Seton Hall are making a strong push with the local product. Ultimately, he could take a postgrad year, but nothing has gone official. If he does take a year of prep, the word on the street is that Goodman will head to Brewster Academy in New Hampshire next year. Whether he stays in the class of 2012 or takes an extra year, there is no doubt that Savon Goodman is an absolute beast on the court. One side note - Goodman will take an official visit this weekend to Pittsburgh, his coach Rob Moore says.
WHAT IS AMILE JEFFERSON'S PLAN?
2012 6-foot-7 combo forward Amile Jefferson of Friends Central (PA) is one of - if not the best - available seniors. The No. 36 player in the Rivals150 for the class of 2012, Jefferson appears to be down to NC State, Duke, Villanova and, possibly, Kentucky. Kentucky has a slim chance of landing him but it cannot be ruled out since Anthony Bennett recently cut them from his list. Villanova has the advantage of being local. Jefferson's father, Malcolm Musgrove, is extremely close with him. One would wonder if Jefferson's deep ties in Philly would make him want to stay local in order for friends and family to come to his games. At the same time, it is tough to turn down a program like Duke. While he wouldn't play right away, Duke could end up building on a solid duo of combo forwards in Jefferson and rising sophomore Alex Murphy for the next couple of years. NC State has a loaded class with three McDonald's All Americans in TJ Warren , Rodney Purvis , and a close friend of Jefferson's - Tyler Lewis . The two have bonded during the McDonald's game, as well as the Derby Classic in Kentucky where they were teammates. As he is expected to make his college decision on Wednesday, it is still unclear where Amile Jefferson will land but Villanova, NC State and Duke are still the clear cut favorites.
WILL RONDAE JEFFERSON FOLLOW IN HIS BROTHER'S FOOTSTEPS?
He's the No. 23 player in the Rivals150 for the class of 2013 and he could probably go wherever he wants. For some players that usually means something, but for 6-foot-7 Chester (PA) small forward Rondae Jefferson it's a bit different. The brother of Temple star
Rahlir Hollis-Jefferson
, the younger Jefferson has looks from all over the country, yet his primary suitors are the Owls, Rutgers and Villanova. These three schools consistently attend his games, constantly call him and have been tracking him for years. Thus far, the only other school that has gotten a slight visit from the athletic forward was Syracuse when Jefferson checked out their game in New York City earlier in the season. At this point in his junior year, Jefferson's primary focuses are playing AAU with Team Final and preparing for the SAT. He isn't focusing much on his recruitment, but Temple, Villanova and Rutgers appear to be the likely landing spots for the 4-star prospect. With his close family ties to the city of Chester and Temple's move to the Big East, it would be no shock if Jefferson followed in the footsteps of his older brother.
IS RYSHEED JORDAN HEADING TO THE STATE OF MARYLAND?
From one Philadelphia native staying in-state to another who may be leaving to head to the ACC or Big East, 2013 6-foot-4 Vaux Roberts (PA) point guard Rysheed Jordan is in a Maryland state of mind. The Terrapins and Georgetown Hoyas appear to be the unofficial leaders for the extremely talented guard, who is playing with Philly Pride this spring. Jordan has taken two unofficial visits to Maryland and has been on the Georgetown campus once. Both schools have been extremely active in his recruitment along with St. John's and NC State. An extremely fast-paced player with a great basketball IQ and ability to distribute the ball and score, Jordan has plans of making a college decision sometime in July, possibly before the Live Period begins. Look for the No. 12 player in the Rivals150 for the class of 2013 to wind up at either Georgetown, Maryland or St. John's in the end.
CAN JA'QUAN NEWTON BE THE BEST POINT GUARD TO COME OUT OF NEUMANN GORETTI?
The Neumann Goretti (PA) basketball coaches have witnessed some of the best guards to come out of the state of Pennsylvania. 2014 6-foot-3 point guard Ja'Quan Newton could be the best to come out of a program that has featured former Syracuse guard Scoop Jardine and former Wake Forest guard Tony Chennault, who transferred to Villanova. Newton has looks from Villanova, Syracuse, Boston College, Temple, Wake Forest, Pittsburgh and many more early on in his sophomore year. "He could be the best guard to come out of that prestigious program," one D1 assistant coach said. The hype is worth it as Newton can score, shoot, handle and make plays with a solid body for a young player. He took unofficial visits to Temple and Villanova this week and while he is not playing in the Nike EYBL with Team Final's U17 squad just yet, one can only imagine how much notice and buzz the No. 41 player in the Rivals50 for the class of 2014 will draw when he gets there next year.
Five for Friday will be a weekly post featuring a certain theme, region, city or trend in the high school basketball world and some questions and answers some people have been wondering about. To send questions, email Recruit Scoop publisher Alex Kline at AlexKlineBasketball@Yahoo.com.