Five for Friday: Canadian Hoops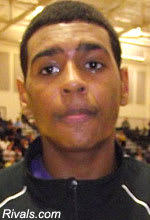 In the second edition of
Five for Friday,
The Recruit Scoop answers five intriguing questions about the high school basketball recruiting scene. In this week's edition, we head up North to Canada - specifically focusing on Nike EYBL powerhouse and 14-0 CIA Bounce - with
Tyler Ennis
,
Andrew Wiggins
,
Xavier Rathan-Mayes
,
Isaiah Watkins
, and
Tanveer Bhullar
as the focus point.
IS IT A TWO-TEAM RACE FOR THE NATION'S TOP SOPHOMORE, ANDREW WIGGINS?
For months, there has been talk that Florida State and Kentucky have the best shot at landing the No. 1 player in the 2014 Rivals50, and possibly the best player in the world regardless of class, Andrew Wiggins. As the Kentucky staff frequently checks in with the 2014 Huntington Prep (WV) small forward's coaches and has watched him play a number of times this spring, the defending national champions have a resume that speaks for itself. As John Calipari continues to bring in and develop NBA Lottery picks - John Wall, Tyreke Evans, Michael Kidd-Gilchrist, Anthony Davis - it will be tough for the young talent to turn down such a tempting destination. Florida State is the alma mater of Wiggins' parents, who both played sports for the Seminoles. Florida State head coach Leonard Hamilton and staff know all about this and are recruiting him as hard as possible in order to keep the family tradition going. They may not breed NBA players like Kentucky, but the Seminoles old time staff has produced plenty of professionals including Al Thornton, Solomon Alabi and Toney Douglas. It is still early, but both schools are recruiting him the hardest. The third wheel may be the North Carolina Tar Heels, who continue to check in on him. Whether the top sophomore in the country goes to Florida State, Kentucky, North Carolina or any other school, he will still be a future pro and a very good one at that.
CAN 7'3 CENTER TANVEER BHULLAR BOOST HIMSELF TO A HIGH MAJOR ATTRACTION?
Living in the shadow of his older and, oddly enough, taller brother Sim Bhullar for a number of years, it's 2013 Huntington Prep (WV) center Tanveer Bhullar's time to shine and grab attention. With a disappointing high school season due to limited minutes and a lack of stamina, Bhullar has had a strong AAU season with increasing minutes and better play on the court. As his brother - a former Xavier commit currently playing at New Mexico State - was a high-major attraction that went the mid-major route due to a few factors, could a high-major school take a liking to the big man? As of now, he holds offers from Seton Hall, Towson, Kent State, Detroit, Jacksonville, Providence, Rice and Eastern Michigan. Two potential high-major schools that could offer are Florida State - who has a history of developing 7-footers - and Washington State who has been heavily involved with him since his freshman year. Missouri and UNLV are two other possibilities as his AAU coaches have strong relationships with the coaching staffs at those schools. As Providence and Seton Hall are both Big East offers, one has to wonder if Bhullar would fit those systems well or consider them. With no clear cut favorite, look for his performance this summer to set the tone for whether or not Tanveer Bhullar will emerge as a high-major player. As of now, he is not ready for that mentally or physically. Will he be ready for it when hundreds of coaches watch his games at this July's Nike Peach Jam?
WHO WILL FINISH ON TOP FOR RIVALS150 POINT GUARD TYLER ENNIS?
With offers from schools around the country, Tyler Ennis is easily one of the top juniors in the country. A 2013 6-foot-2 point guard from St. Benedict's in New Jersey, the No. 21 player in the Rivals150 is being carter by a number of schools. The question is where will he end up? Originally, it appeared that Louisville, Syracuse, Arizona and Kansas were the frontrunners to land the talented CIA Bounce floor general. As he explored all four schools and visited each one except for Kansas, it appears he is wide open as of now. LSU and UCLA offered two weeks ago and the Bruins, if they can get him to visit, could be a potential destination with Kyle Anderson's potential to enter the NBA Draft next year. Last week, it was announced that Ennis had cut Arizona from his list following the additions of point guards Mark Lyons - a Xavier transfer - and T.J. McConnell - a Duquesne transfer who is only a sophomore. Villanova, Missouri, Cincinnati and others are also involved. As Ennis' older brother, Rice transfer Dylan, recently elected to play at Villanova, one has to wonder if this could help or hurt the Wildcats with incoming point guard Ryan Arcidiacono and former Wake Forest combo guard Tony Chennault coming in, as well. Look for Syracuse to have the best shot with the rising senior, whose family lives nearby in Buffalo, New York.
WILL ACADEMICS SWAY ISAIAH WATKINS' DECISION?
As most players list academics as an important factor in their recruitment, few athletes are truly sincere about it. That is one of the special traits about 2013 St. Benedict's (NJ) power forward Isaiah Watkins, who is contemplating between which conference may be best for him. Watkins has the opportunity to play in the Ivy League or Patriot League and receive an elite education from the likes of Princeton, Harvard, Cornell, Penn, Bucknell, Lafayette and others. He could also look at a number of strong academic schools around the country in Santa Clara, St. Bonaventure, Rice and others. For the talented post, he could also head the high-major route via Miami, Iowa State, Virginia, Stanford, Arkansas, Boston College and others. With a GPA and test scores that could lead him to nearly any school of his wildest dreams, the Canadian stud must find a medium and niche where he will be able play, find a balance of academics and succeed in life. With a very involved family and a strong preparatory education in Newark, one has to wonder whether Isaiah Watkins - once he chops down his long list of 40 to 50 schools - will choose the Ivy and Patriot League schools over perennial high-major conferences in his highly anticipated college decision. Will he be a unique case or will he follow the pack? The recruitment of this rising senior could get very exciting to follow as it dwindles down over the next few months.
HOW HIGH CAN SHARPSHOOTER XAVIER RATHAN'S MAYES' STOCK RISE?
Heading into the spring, Xavier Rathan-Mayes' recruitment wasn't as clear as everyone imagined. The 2013 Huntington Prep (WV) shooting guard has had a list of around 30-40 colleges pursuing him for the past year or so with an unclear idea on whether some schools had officially offered or were just interested. With a monster month of April - including a 41-point performance in his first game of the spring - the recruitment of Xavier Rathan-Mayes is much more realistic and, in fact, scary. This spring the son of former NBA player Therron Mayes landed scholarships from Seton Hall, LSU, UCLA, Baylor, Penn State, South Florida, Minnesota, Oregon, SMU, Marquette, Illinois, Gonzaga, Alabama, Washington State, South Carolina, UAB and La Salle. To say it was a solid month of April for the Canadian superstar would be an understatement. To add to the fun, a number of other Big East, ACC, Big Ten, SEC, PAC-12 and Big-12 schools had already offered or shown interest. When could Rathan-Mayes cut his list down to a reasonable amount though? There is no clear timeframe but he has one school in mind that he hopes to attract. If Kentucky were to offer the 2013 shooter, he has no doubt that they would be the favorite. After visiting the school earlier in the year with Wiggins, the No. 66 players in the Rivals150 has set his sight on attracting every school in the country, including the Wildcats. Will John Calipari take note of this or will Rathan-Mayes have to dwindle down his list of nearly 30 scholarship offers?
Five for Friday will be a weekly post featuring a certain theme, region, city or trend in the high school basketball world and some questions and answers some people have been wondering about. To send questions, email Recruit Scoop publisher Alex Kline at AlexKlineBasketball@Yahoo.com.