Best of Pitt Hoop Group Jam Fest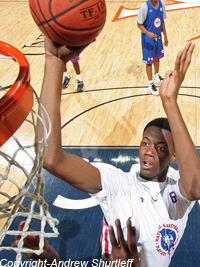 With nearly 350 teams in attendance for the Pittsburgh Hoop Group Jam Fest, the top talent became apparent. Here's a recap of some of the notable happenings from the April Live Period event in the Steel City.
Whitehead & Jones Steel the Show
There was plenty of talent on hand this weekend, but the two names who stood out above others were clear. 2014 Lincoln (NY) guard
Isaiah Whitehead
from Juice All-Stars and 2015 Archbishop Carroll (PA) small forward
Derrick Jones
from We-R1 showed why they are top-50 players nationally.
Ranked No. 19 in the Rivals150, Whitehead has accomplished a lot over the years but is still trying to prove that he is one of his classes' elite. With the goal in mind of being a combo guard, Whitehead showed off his court vision, passing and ability to finish at the rim relentlessly. He started off the weekend with a 38-point performance, followed by numerous performances of over 20 points each.
"I was getting double teamed so I just found my open teammates and they finished," he told Rivals.com recapping his weekend. "I'm an underrated passer and need to work on my jumper, handle and defense. I want to be come a complete guard before getting to college."
Whitehead could take visits this spring, but may elect to take his official visits in the fall and then decide before his high school season. If he were to take those visits today, they would go to Louisville, Kentucky and Syracuse. The Cardinals and Orange seem to be expressing the most interest, and Rick Pitino's constant contact with the guard and his family is very appealing.
Jones, on the other hand, is new to the game of recruiting. After a huge weekend in which he showed off his athleticism, rebounding skills, persistence on all levels and a nack for finding, as well as setting up, open teammates, it became clear that the sophomore forward is going to go up in the rankings from his current spot at No. 37.
Tracked by coaches from Syracuse, Villanova, Georgetown, Ohio State, Xavier, Miami, Kansas and more for the entire weekend, Jones showed his youth when he was more excited about Hoopmixtape making a video of his performance as opposed to the dozens of schools taking in his talent.
"He's a pro," one college coach told Rivals.com.
Coming in with offers from Temple, Kansas State, Xavier, St. Joseph's, Rutgers, Penn State and Villanova, he came away with a Cincinnati offer hours after the event. Syracuse is close to offer, along with several other powerhouses.
Still, Jones is not settled on his performance and thinks the best is yet to come.
Bound to Breakout
Several unranked prospects made their claim for why they should enter the Rivals150 with strong performances and consistency throughout. Others showed shades of excellence and tons of potential.
It's only a matter of time before Toye blows up. The class of 2015 wing from Whitney Young (IL) remains stable at one offer, UIC, but is bound to gain a lot more this spring. The attention is building up as he also demonstrated a strong ability to attack the rim, handle the rock, shoot it a bit and much more. Toye brings an ideal frame, wingspan and overall body to the table, and this has led to interest from Providence, Illinois, Virginia Tech, Northwestern, Purdue and DePaul. When may his breakout moment be? That is undetermined. It should come very soon, though.
The Cahawba Christian (AL) small forward, Purifoy, is a long, athletic wing who excels at driving to the basket, getting others involved and is improving his jumper. He must gain acceptance for making contact when driving to the basket as that is holding him back from being an elite wing when in attack mode. The likes of Michigan State, Florida State, Florida, Alabama, Auburn, Georgetown, Kentucky, UAB, Georgia and Georgia Tech are recruiting him. With a strong showing on the AAU circuit, Purifoy has a chance to be a very good prospect, and an even better finished product.
Speaking of talented prospects, the upside of Moore is through the roof. A 6-foot-11 center from Luella (GA), he does his damage on the defensive side of the ball, but can be explosive in spurts in the post. When fed the ball around the basket, Moore threw down a number of thunderous dunks that he made look fairly easy. With an elite body, his development could lead him to a big future in basketball. Mississippi State, Indiana, Georgia, George Mason, Clemson, Georgia Tech, Cincinnati, Florida State and Georgetown all believe so as these schools are tracking him fairly hard. Originally from Louisville, Moore wouldn't mind playing for the Cardinals or another powerhouse in college hoops.
Owens has been promising ever since breaking onto the scene last July. The 2014 St. Vincent Pallotti (MD) power forward has a good feel for the game overall and has continued to work on his flaws on the court. Gifted with length, an improving mid-range jumper and some very athletic finishes on both sides of the ball, he is closing in on a decision soon. Considering Temple, VCU, Miami, Georgetown, Cincinnati and others, the original plan was to make a college decision before the spring was over. If he continues to play well, his stock could rise higher and new schools would come in. This could be a positive dilemma in Owens' college recruitment.
Arinze Onuaku wound up being a great asset to Syracuse several years ago. Now, his brother, Chinanu, has the chance to do the same thing. The 2014 center from Riverdale Baptist (MD) is still very much so raw on the offensive end of the game, but he posses the body of a high-major big man with his 6-foot-11 frame, as well as a many similar traits to his older brother. The 2014 big is listing strong interest from the likes of Seton Hall, Georgetown, Cincinnati, Maryland and Virginia Tech, with others taking a look. Kansas State, who landed a commitment from his teammate Nigel Johnson on Saturday, will likely become heavily involved in the near future due to their strong ties in the DMV area.
Notable Nuggets
2014 Shiloh (GA) center
Trayvon Reed
had a good weekend, and continues to get better. Defensively, he is making the most of his time out there. Running the floor fairly well, the 7-foot-2 specimen continues to work on his offensive presence. With the goal to improve his jump hook shot, and consistently posting up on defenders, Reed is definitely showing signs of improvement. He rattled off a list of Georgia Tech, Auburn, UConn, Georgetown, Kansas, Georgia, Florida State, Miami, Maryland, Wake Forest and Florida, who he is considering among others. His goal is to sign next spring, as opposed to deciding in the fall.
2017 Atlanta XPress duo James Walker Jr. and Deangelo Gibbs are still fairly young, but are playing on the U16 circuit as eighth graders. Walker Jr. is the more productive out of the two, and has the better body, but both have a chance at being very good. Walker will attend Southwest Atlanta Christian (GA) for his freshman year - with the dream schools of Duke, North Carolina and Michigan in mind - while Gibbs, who holds interest from Kennesaw State and the previous USC staff, is looking at a number of options for high school where he can be a two-sport athlete in football, as well.
The 2015 duo of Chris Clover and Samir Doughty had college coaches talking. Both are fearless, athletic players from Philly Pride, who have no intention of this team having a rebuilding year following the Rysheed Jordan era. It is still early but both Clover and Doughty are drawing interest from a number of local schools such as La Salle, St. Joseph's, Temple and Drexel, but are also being tracked fairly hard by Xavier assistant Ashley Howard, who has his boss, Chris Mack, checking out the team this weekend. Along with that, Philly Pride's U17 team features Yohanny Dalembert, the younger brother of current NBA veteran, Samuel Dalembert. A 2013 power forward, he holds a new offer from Hofstra, but could always opt to go 2014 if tempted by higher options.
2014 Linden (NJ) power forward
Quadri Moore
continues to refine his game and body for Sports U (NJ). Still a questionable decision maker with the ball in his hands, he has improved his inside-outside game, handle, and ability to create a variety of shots for himself, including an occasional move post move for a quick score. With recent offers from Iowa State and Wake Forest, he is now hearing a bit from Duke, which could make his recruitment very interesting in the near future.
For the latest in college basketball recruiting, head to TheRecruitScoop.com for the latest details and notes on offers, visits, commitments and more. To contact Alex Kline, you can reach him by email at MaryKlineClassic@gmail.com or on Twitter at TheRecruitScoop.