All-City Classic Recruiting Rundown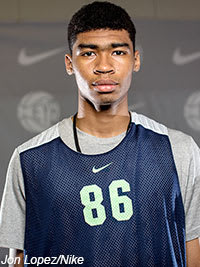 Philadelphia, PA - As New York and Philly went at it in three games, it was clear that both cities were filled with talent in the classes of 2015, 2016 and 2017. Here's a recruiting rundown on some of the top performers at the All-City Classic.
2016 Christ the King (NY) shooting guard Rawle Alkins
picked up his latest offer from Florida during the week. The likes of Kansas, Louisville, Indiana, Miami, Minnesota, NC State, South Florida, Seton Hall, Villanova, Cincinnati, Rutgers, Louisville, and Providence have all offered, and it is clear everyone is trying to get in. Alkins has had meetings with
Rick Pitino
,
Jay Wright
and
Mick Cronin
in the past two weeks.
Kevin Willard
is coming in soon.
2017 Roman Catholic (PA) guard D'Andre Vilmar has already visited Rutgers and will visit Monmouth in the coming weeks. Temple and Villanova are also showing early interest.
2017 Long Island Lutheran (NY) point guard Jordan Walker has caught the attention of George Mason, St. John's and Villanova early on as they have seen him at workouts.
2017 Reading (PA) shooting guard Lonnie Walker picked up his first offer following a visit to Holy Cross a few weeks back and many more should follow. He impressed at Villanova Team Camp in the summer, and has the attention of Princeton, Rutgers, James Madison and Stanford, too. He visited Rutgers during the summer.
2017 Episcopal (PA) forward Nick Alikakos has taken a few visits recently to both Drexel and Princeton. Visits to Temple and Colgate will take place in October. Penn, Bucknell, Holy Cross and Boston are also involved.
2017 Archbishop Carroll (PA) guard David Beatty recently visited Georgetown and will take a trip to UConn sometime in October. He holds a plethora of interest from Syracuse, Rhode Island, Maryland, Siena, Miami and James Madison, as well.
2017 Neumann Goretti (PA) point guard Quade Green claims offers from Temple and Providence with another one likely on the way in Villanova. As he was on the Rutgers campus this summer, along with the Temple campus this past week, he has some interest from UConn and Michigan State.
2017 Neumann Goretti (PA) power forward Dhamir Cosby-Roundtree also visited Temple this past week. Rider has offered and Villanova is expressing early interest.
2017 Archbishop Stepinac (NY) guard Jordan Tucker
is at a new school for his sophomore year, and his recruitment continues to soar. Syracuse is likely to offer in the coming week - a school that he hopes to visit in October. Indiana is also showing interest. His offers, at this point, are from Villanova, Oklahoma, Dayton, Providence, Fordham, Xavier and Manhattan.
2017 Westtown (PA) wing Najja Hunter also transferred and his development is moving along steadily. After reclassifying, he picked up a new offer from Penn State last week after holding offers from Rutgers, Seton Hall and Fordham last year. He holds some interest from Syracuse and Stanford.
2017 St. Mary's (NY) center Nicholas Richards
holds an early offer from Creighton with interest from North Carolina, UConn and Notre Dame.
2017 Westtown (PA) power forward Mohammed Bamba is shaping up to be the next great big man out of PSA Cardinals (formerly Team Scan). With new offers from Yale, Penn State and Temple, along with an old one from James Madison, it is clear his upside will make him a focal point on the national recruiting trail.
2016 Friends Central (PA) forward DeAndre Hunter
now holds scholarships from NC State, La Salle, Rhode Island, St. Joseph's, Oklahoma State, Temple and Penn State with emerging interest from Maryland. He visited Penn State during the week.
2016 Cardinal Hayes (NY) point guard Clive Allen
has already visited Temple and Iona. He holds offers from Hofstra, Iona, Quinnipiac, Temple, Monmouth, Stony Brook, Duquesne and Fordham at this point, with interest from Iowa. Look for the Hawkeyes to potentially offer the underrated guard soon.
2016 St. Anthony (NJ) power forward Taurean Thompson has a variety of schools looking at him, including Rutgers, Stanford, Iona, Temple and St. John's. Rutgers has made him a priority early on and already hosted the developing post on campus.
2016 Archbishop Carroll (PA) point guard Josh Sharkey is still looking for his first offer, but that could come soon. He visits Delaware on Sunday, and holds interest from Dayton, Penn State, Mississippi State and numerous mid to low-major programs.
2015 Life Center (NJ) point guard Traci Carter
is back from injury and looks to be one of the better available floor generals in the senior class. Tennessee and SMU are both very involved, but more could pursue if and when they miss out on their priority at the point.
2015 Archbishop Carroll (PA) small forward Derrick Jones
has three schools primarily involved with him. UNLV is now in the thick of the hunt, but it still appears to be a two-team race between Auburn and UConn. Jones recently had an in-home visit with
Kevin Ollie
.
2015 Wings Academy (NY) point guard Desure Buie
could go high-major or mid-major. That is unclear. Creighton is no longer involved after landing a point guard this week. Hofstra, Seton Hall and Saint Louis are in the thick of things, but it seems like the Pirates are in the best shape at this point.
For the latest in college basketball recruiting, head to TheRecruitScoop.com for the latest details and notes on offers, visits, commitments and more. To contact Alex Kline, you can reach him by email at MaryKlineClassic@gmail.com or on Twitter at TheRecruitScoop.